Toyo Seikan Group installed a new type of eco station "E-DOME" at the Kashima Antlers Tsukuba Academy Center and participated in the demonstration experiment of the plastic bottle cap collection machine "Captain BOX"

Toyo Seikan Group, to which our company belongs, installed an eco-station (resource collection station) "E- DOME" at Tsukuba Academy Center (soccer field dedicated to the academy), which is the activity base of the subordinate organization of Kashima Antlers F.C. (hereinafter Kashima Antlers). The "E- DOME" is equipped with a special cap collection machine, the "Captain BOX", which allows adults and children to have fun collecting PET (plastic) bottle caps as part of the resource recycling demonstration experiment. As a closure manufacturer, we are participating in this project.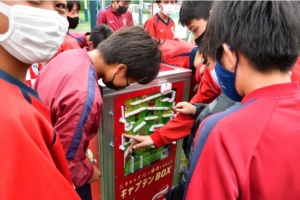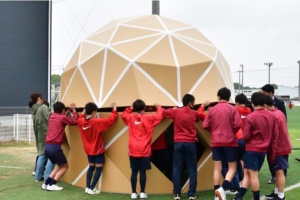 Left: Academy students enjoying the Captain BOX    Right: "E-DOME" under construction
Change sorting from "have to" to "want to"
As an infrastructure for everyday life, packaging containers make an important contribution to solving social problems by providing food, beverages and necessities to people and communities in need, and by preventing food losses and hunger through improved shelf life.
On the other hand, in recent years the nature of containers has been questioned from the point of view of environmental protection. We need to create a system to recycle containers instead of throwing them away. Therefore, the Toyo Seikan Group, in collaboration with Professor Naohiro Matsumura of Osaka University, a leading expert in the field of "shikakeology" (behaviour change triggers), has developed a mechanism to change sorting from a "have to" to a "want to."
Gimmick: "Captain BOX," PET (plastic) bottle caps collecting machine that makes you want to sort
Inside the E-DOME, a "Captain BOX" is installed to collect PET (plastic) bottle caps. By inserting caps from the top, you can enjoy a game where caps are flipped by a lever to reach the goal. The caps collected will be used by Toyo Seikan Group and our company for research and development in the field of recycling of caps. The meaning of the "Captain BOX" is a box for collecting "caps" to score a goal, and it expresses our wish that players enjoy the game and collect and sort the caps with a sense of responsibility and leadership, just like captains in soccer.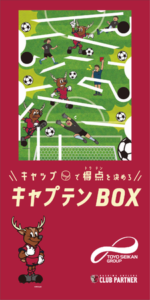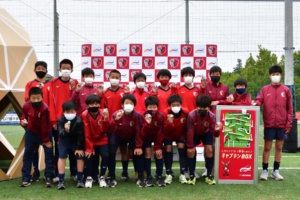 Toyo Seikan Group's Open Innovation Project "OPEN UP! PROJECT"
In 2019, Toyo Seikan Group launched "OPEN UP! PROJECT", an open innovation project to solve social problems faced by each individual and create a sustainable lifestyle for the future by using container technology and know-how it has built up over the 100 years since its establishment. We will continue to work with the Kashima Antlers, our supporters, local communities, and other partners to realize "Package to Package," a recycling society for packaging containers, through a number of different initiatives and demonstration trials.